Station Overview
The station consists of a VLF antennas, SID receivers and a set of data acquisition, data storage and graph generation software.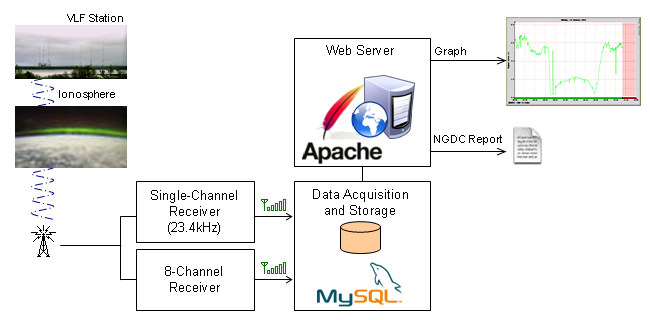 All information necessary to build yourself a SID monitoring station are available on this web site.
The antenna (magnetic loop) has a specific design.
The SID receiver is tuned to a specific VLF station. It measures the received signal amplitude and performs the analog-to-digital conversion.
The scripts used by the author for acquisition and graph generation are freely available. In addition, the SIDmonitor software is an integrated environment for data acquisition, storage and graph generation for Windows users.
In addition to that, a web server runs 24/7 to provide access to real-time and history measurements and reports. You may view daily charts of the actual VLF signal levels measured by this station.
The monitoring station is located in the South of France. It has the AAVSO observer code A118.
Nine stations between 19.6 kHz and 77.5 kHz are monitored.