Options Startup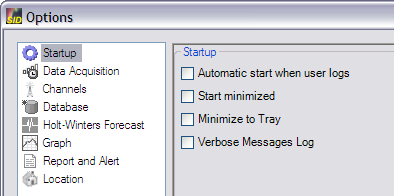 This panel is used to set the startup options of SID Monitor.
It is possible to automatically start SID Monitor when the user logs. This can be useful to ensure that data acquisition continues when the computer reboots for any reason.
SID Monitor can be set to initially start minimized through the "Start Minimized" option.
The "Minimize to Tray" option allows to save some space on the Windows taskbar. If selected, only the notification icon is visible in the system tray when the application is minimized.
The "Verbose" option indicates if recurrent messages are displayed in the message pane. When not enabled, only warning/error or unusual messages are shown.